Trenton, OH – June 28, 2023 – Shape Corp., a global leader of innovative automotive lightweighting crash management and body structure solutions, announced the grand opening of its cutting-edge aluminum facility in Trenton, Ohio on Thursday, June 22. This grand opening marked a crucial milestone in Shape's ongoing expansion strategy and displays its commitment to multi-material solutions and delivering innovative and high quality products to its customers. Importantly, the facility also will create 170 new jobs, offering a boost to the local economy.
Spanning over 330,000 square feet, the aluminum facility is strategically positioned in Trenton, with experienced team members in Shape's nearby existing extrusion facility, is well-located to ship to Shape's customers, and allows for collaboration with technical educators in the region. This advanced manufacturing space is armed with the latest technologies and industry-leading aluminum extrusion presses and finishing machinery, enhancing efficient production, increasing capacity, and propelling product development.
"The grand opening of our new aluminum facility in Trenton represents our unwavering dedication to innovation and customer satisfaction," stated Ryan DeBoer, Managing Director of Shape Corp.'s Aluminum Division. "This investment not only bolsters our presence in the region, but also solidifies our commitment to offering our customers state-of-the-art and highly engineered lightweight solutions. We are thrilled to contribute to Trenton's economy and generate new job and growth opportunities for the skilled workforce here."
Building upon nearly 50 years of experience, Shape has innovatively tailored its strategy towards the creation of high-strength, tight tolerance aluminum extrusions for automotive components. By prioritizing the production of extrusions with thin, constant wall thicknesses and complex geometries, Shape is effectively producing unique and optimal solutions for the automotive marketplace.

Shape Corp.'s expansion has been warmly received by local officials. Vice Mayor Ryan Perry of Trenton, OH, expressed his enthusiasm about the new facility, stating, "We are thrilled to welcome Shape Corp.'s aluminum facility to our community. This high-tech facility represents a significant economic windfall for Trenton, and it's a big step towards nurturing the growth of manufacturing in our city. We are confident that their investment will spur our local economy and offer additional opportunities for our residents."

In recognition of the company's significant contribution to the local community, City of Trenton Mayor Calvin Woodrey proclaimed June 22, 2023, as Shape Corp. Day. The Mayor's proclamation reinforces the importance of Shape's investment in Trenton and its positive impact on the local economy.

The grand opening event saw a gathering of distinguished guests, industry leaders, including valued customers and suppliers, and local officials. Attendees were given the chance to tour the facility, experiencing firsthand the cutting-edge technology that Shape has brought to bear in its mission to drive innovation in lightweighting solutions.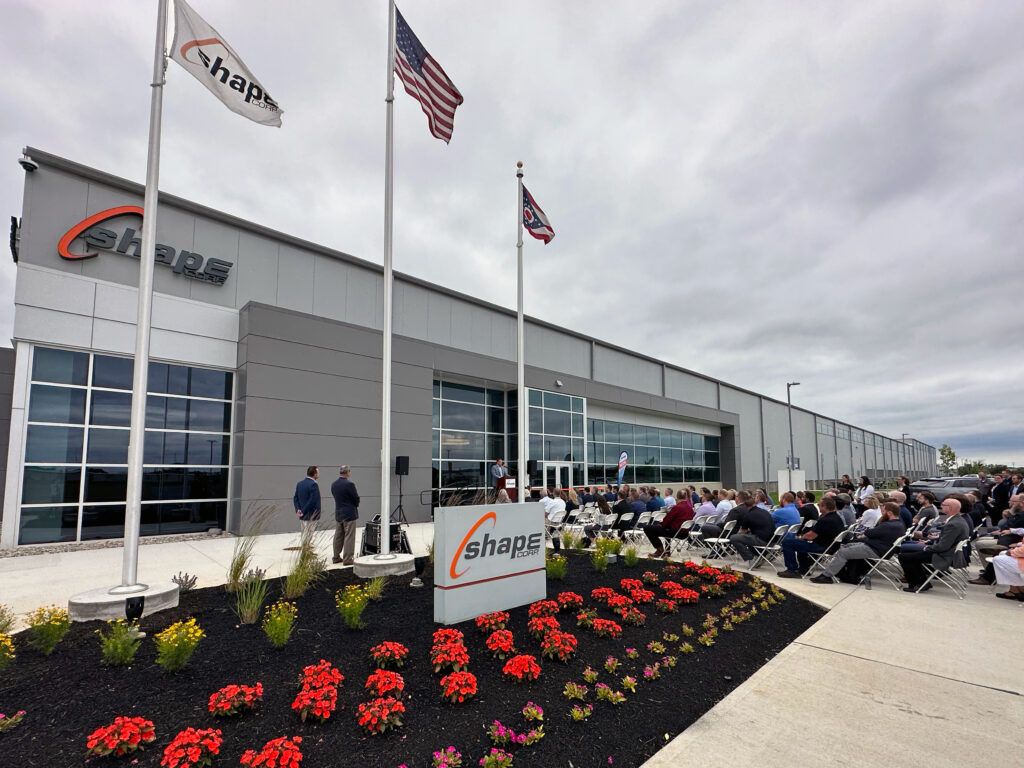 About Shape Corp. Shape Corp. is a global leader in automotive engineering and manufacturing, providing advanced crash management and body structure solutions in lightweight materials and technologies. The company specializes in producing innovative products that maximize performance while minimizing environmental impact. For more information, visit www.shapecorp.com.