INJECTION MOLDING SPECIALISTS
As an injection molder, Shape is focused on bringing you a full range of services under one roof. We utilize the latest technology and equipment including CAE, large-tonnage two-shot presses, cavity pressure control, robotics and innovative tooling concepts. These capabilities allow us to manufacture anything from simple, high volume parts to the most highly-technical components or systems.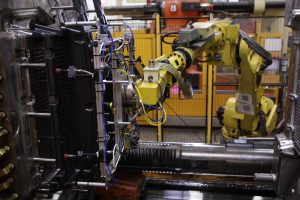 Shape's engineers understand the intricate balance between performance, mass and cost. This familiarity allows Shape to sort through your needs quickly and simplifies the complicated process of using multiple suppliers by putting everything under one umbrella. Large tonnage, two-shot molding, in-house CAE and a physical test lab differentiate Shape from many traditional molders, who simply shoot and ship. As the complexity of component design grows, having a skilled technical partner can be the difference you need to gain a competitive advantage.
Design through manufacturing expertise
Highly automated process
Repeatability and control
Low material cost
Scrap is recyclable and reusable
Wide range of material and performance options
Tooling longevity
Minimal finishing needed
17 ton to 3,000 ton press capacity
Large tonnage, two-shot presses
Part optimization before tooling
Proprietary tool designs and processing methods
Concurrent product/tool/process design
Closed-loop, precision monitoring
Masterbatch (In-line custom compounding)
Insert molding
Tailored reinforcements
Class A surfaces
Pick and place, six-axis robotics
Complex assembly
With more than 300 available resins, including Shape's patented NetFlex resin, Shape provides a high level of material flexibility. Customers can also choose between virgin or recycled material, and leverage Shape's Masterbatch in-line custom compounding formulations to provide higher material performance at a lower cost.
Available resins include: Polypropylene, nylon, PC/ABS, PC/PBT, TPO, TPE, ABS, talc filled, glass filled, mineral filled, plus many more.