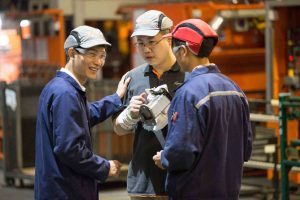 This position is based at Shape Guangzhou plant, Location is Guangzhou Huadu Tanbu town. This position is responsible for checking fixture/tooling built in China local supplier; Responsible for the initial sample inspection and submission from supplier to customer; Maintaining the quality management system for Shape Guangzhou plant. This position need frequently travelling around Guangdong province.
技能和经验
Preferred Education and Experience:
Bachelors in Engineering or Related Field.
GD&T proficiency, good understanding of measurement tools.
Experienced in the check fixture or tooling design and fabrication.
Injection molding process or tooling knowledge is preferred.
Good analytical ability. Good understanding quality tools (FMEA, MSA, SPC, ISIR).
Good knowledge of Quality Management System in Automotive industry; Experienced in TS16949 requirements, Lead internal auditor is preferred.
Working language is English and Chinese (50%-50%).
Duties include, but not limited to, the following:
China local support for oversee tooling build.
Collaborate with oversee program team to kick off and monitoring the gage build progress and performance at China local supplier.
Communicate the gage design with local supplier, program team and customer.
Final run off and approval gages at supplier.
Monitoring the gage build progress to meet the program timing.
Manage the check fixture supplier, improve the gage build performance.
Prototype/Pre-production control and sample delivery management.
Manage resource to build and inspect the tooling trial sample, feedback performance and issues to program team.
Manage resource to inspect and submit the initial samples to customer, inspect and record the data according to ISIR.
Develop and maintain the documentations for the sample submission.
Quality System Management
Setup and maintain the quality management system according to Shape requirements and IATF16949 requirements.
Tracking the system healthy via internal audit, corrective action and customer scorecard.
Perform the QMS review for Guangzhou plant.
Maintain the procedures in document control system.