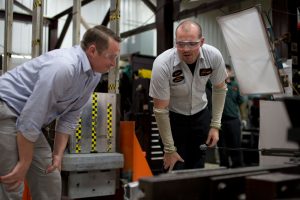 The test lab co-op position offers tremendous growth in the development of engineering knowledge with emphasis on energy management and materials testing. The student will learn the components involved in common car collisions and how the damage is mitigated along with how the different components are designed.
Skills and Experiences
Responsibilities 
Setting up and performing product and prototype testing
Fabrication of test parts and fixtures
Become familiar with testing data acquisition, instrumentation, and programming
Participate in design teams
Create reports and interpret data for internal and external use
Perform industry benchmarking
The learning and skill path is laid out with some general goals to achieve for each semester which increases with each rotation. Shape typically hires graduates from the co-op position into a test engineer position immediately out of college and uses this strategy to build the engineering staff around the company. The job requires a student that has good written and verbal skills, ability to learn quickly, self-start style work ethic, strong computer literacy, and has the ability to operate or be trained on standard tool room equipment.