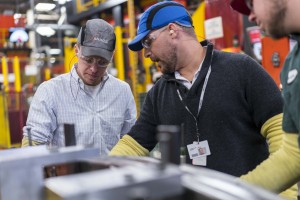 Supporting and improving the design and efficiency of equipment, processes, and systems through the use of sound engineering practices which includes the implementation of Lean Manufacturing Practices. Troubleshooting and problem solving to correct manufacturing inefficiencies, processes and systems when there are failures.
Skills and Experiences
GENERAL RESPONSIBILITIES 
Responsible for safety in process design and in the execution of daily activities.
Ensure compliance of practices, procedures and instructions relative to applicable corporate standards (ISO, TS, etc).
Ensure quality outputs from daily activities.

Use of proper data collection and analysis to ensure provided information is supported with data that reinforces the stated output.
Coordinate/facilitate/analyze process design of experiments (DOE's).

Ensure timely execution of planned activities.
Provide process design and improvements in a cost efficient manner.

Proficient in completing cost justifications with acceptable ROI.

Champion and Leader for Lean Manufacturing Principles.
Utilization of Value Stream Mapping (VSM) and Material Information Flow Chart (MIFC) to drive improvement activities.
Create and utilize standards in order to evaluate improvement activities.
Improves manufacturing efficiency by analyzing and planning work flow, space requirements, and equipment layout.
Ability to identify, communicate and resolve mechanical failures associated with tools.
Additional functions not specifically outlined in this position description as directed by the leader.