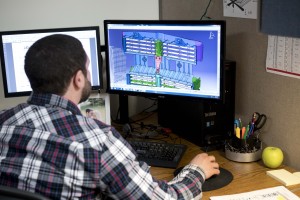 Learn core engineering skills and make a positive contribution in physical testing, computer simulation technical manufacturing, and/or product development areas as part of Shape's formal engineering training program.
Each formal assignment will be a minimum of 1 year. Placement into specific positions will be dependent on skills, performance feedback, and career aspirations. Each core technical engineer will be part of this program for 3 to 5 years. Engineering positions for which these participants will be considered upon successful completion of this program include, but not limited to product development engineer, CAE Analyst, and manufacturing process engineer. Each participant's progress through the program will be monitored and guided by the Core Technical Engineering Guidance Team. Participants will hold the title of Core Technical Engineer throughout the program and will be evaluated for merit increases annually on the yearly corporate schedule.
Skills and Experiences
Preferred Education and Experience:  Bachelor's degree in Engineering
Essential Job Functions include, but not limited to, the following:
Application of engineering calculations
Proficient with Microsoft Office applications, including Word, Excel, Outlook, etc.Manage projects across multiple disciplines within Shape
Manage projects across multiple disciplines within Shape
Create technical documents summarizing data analysis and conclusions
Ability to present technical information
Test Engineering
Low speed impact testing
Materials testing
Fixture fabrication
Data acquisition/LabView Programming
Benchmarking activities
CAE Engineering
Utilizing Hypermesh software to develop CAE models
Working level capabilities in CAE model development
Working level knowledge and understanding of LS-Dyna
Material characterization
Development of impact energy management expertise
Technical Manufacturing Process Engineering
Problem-solving using DMAIC process
Statistical analysis including DoE
Product Development Engineering
Lead and manage product development cycle
Ability to interpret customer technical requirements
Apply appropriate engineering tools and evaluate inputs for product design (engineering calculations, parametric models, design standards, CAE, test results, DFMEA, lessons learned, DVP&R, RSS analysis, design for manufacturing)
Complete technical reports and presentations for internal and external audiences
Customer interaction skills and strategies
Additional duties as assigned by the supervisor, not otherwise specified in this position description.